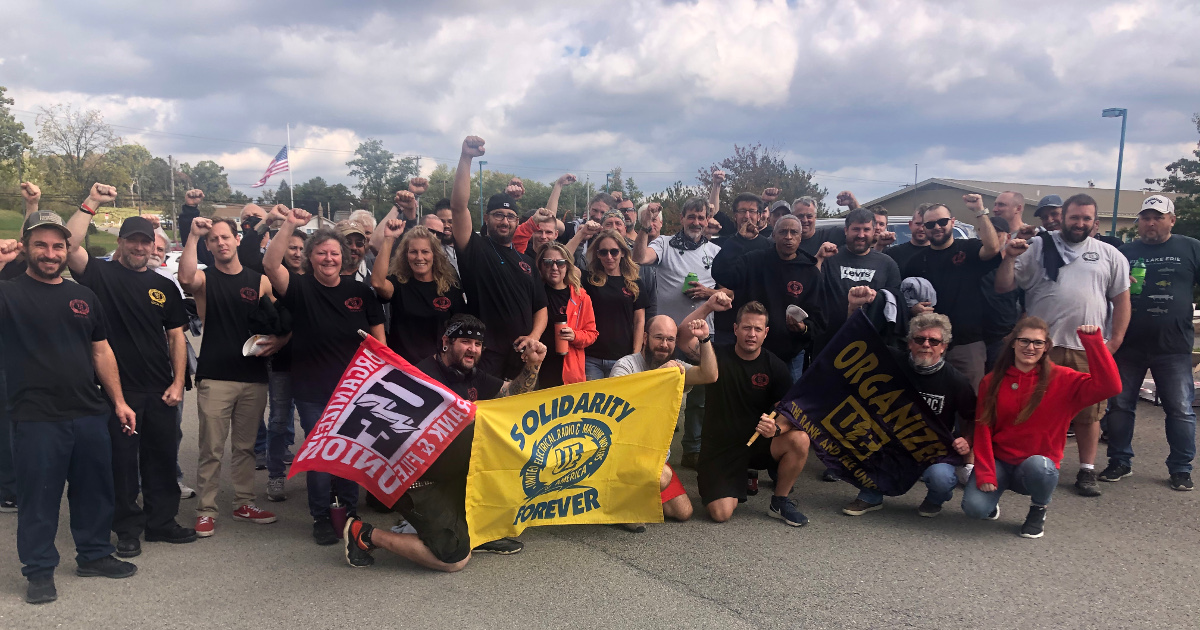 October 27, 2021
Beaver Falls, PA
UE Local 690 ratified a new five-year contract on October 22 after running an aggressive contract campaign spearheaded by strong rank-and-file participation. Gains include average wage increases of $.77 per hour for each year of the contract, two additional personal days, extra vacation time for newer hires, expanded bereavement leave protections, improved non-discrimination language, expanded life insurance benefits, and a $1,000 ratification bonus. The workers, who produce custom-made plastic components and enclosures for a range of industries, successfully fought back all concessions proposed by the company, Kenson Plastics.
"I have been a member of Local 690 for 41 years, and involved in a lot of negotiations. We got this contract because our membership turned the heat up and made it very clear to the company that we were willing to fight for something a lot better this time around. Everyone was involved and we were organized. The company knew that our members were serious about doing whatever it took to get the contract they deserve," explained UE Local 690 Vice President Jimmy Tew at the union's ratification meeting.
Communication and member involvement were key to the local's success. Leading up to the expiration of their contract, the local held regular membership meetings after work at the facility. These meetings were attended by the great majority of the membership, who discussed bargaining updates and next steps of the campaign.
Days before expiration and with the parties still far apart on a settlement, the membership voted to authorize the bargaining committee to call a strike if necessary. The negotiating committee set up a phone tree so time-sensitive communications could be delivered quickly to the entire membership.
Hours before the contract expiration, the local held a rally in the front parking lot of the facility during their lunch break. Nearly the entire membership showed up, including second-shift members who came in early to participate. The members enjoyed union pizza and distributed new union shirts while preparing for all possible scenarios.
UE Eastern Regional President George Waksmunski addressed the local, commending the members on their fight. "You're all doing a great job sticking together," he told them. "Our power comes from the members, you all, the rank-and-file."
Health insurance was at the center of the discussions at the bargaining table and on the shop floor, with the company proposing huge spikes to employee premiums.
"The company wanted us workers to pay huge increases on our premium contributions, in some cases more than double what we have been paying," said UE Local 690 Chief Steward Rich Krohe. "We kept pushing back on those increases [at the bargaining table] and got the company to agree to only modest yearly employee premium increases that our members will be able to live with. Our deductibles will stay the same, and we got more protections on the out-of-pocket costs. Our membership demanded that their healthcare costs didn't rise in a big way and we were able to deliver that with this contract."
The contract will provide for general wage increases of $.80 per hour in the first and fourth years, and $.75 per hour increases in years two, three, and five. Members will also receive a $1,000 ratification bonus.
In addition to healthcare and wages, vacation and sick time were key issues for the union. The local demanded expanded sick time coverage to protect the safety of its members, and vacation time for newer hires has long been an area of discontent for less senior workers. The local was able to address both issues.
Personal days, which can be used for sick and emergency reasons, were increased from five to seven per year. Employees with between one and three years of service will receive two more vacation days each year, and those with between three and six years of service will receive an extra day of vacation each year.
"Getting additional time off to use if you are sick was huge for this local. We needed to make sure our members have the time off to use so they can protect themselves and their co-workers," said UE Local 690 President Jeff Cousins.
Bereavement language now fully covers domestic partners and live-in relatives. Life insurance will increase by $10,000 per year to $40,000. Gender identity, sexual orientation, citizenship, and disability were all added as protected categories under the contract's non-discrimination clause.
The shift differential will also increase by a nickel to $1.35 per hour, and the company will make additional 401(k) contributions depending on the level of employee contributions.
"I am proud of our union for sticking together and getting this done. I am proud of my dad, Jimmy, for continuing to fight and care about his co-workers even after all these years," said UE Local 690 Financial Secretary Harley Tew (who is the daughter of Vice President Jimmy Tew).
"Our members were clear they wanted to see a contract that improved on their living standards. We knew what our marching orders were at the negotiating table from the local," commented Cousins.
"As a newer member (four years), it was great to see our union come together in the way we did, and what that looks like. I think we will all be stronger union people from this experience," added UE Local 690 Recording Secretary Austin Greco.
"Everyone helped where they could. That is what being union is all about," remarked a smiling UE Local 690 Trustee Charlie Closson at the ratification meeting.
"I'm more than happy with the contract, and glad to see everyone working together for a common cause. Our entire bargaining committee did a great job representing our local," said UE Local 690 member Tony Hall.
The union bargaining committee consisted of President Jeff Cousins, Vice President Jimmy Tew, Financial Secretary Harley Tew, Chief Steward Rich Krohe, Recording Secretary Austin Greco, and Trustee Charlie Closson. They were assisted by Field Organizer Ben Wilson. Research Director Karl Zimmerman and International Representative John Thompson provided valuable support during negotiations. UE Eastern Regional President George Waksmunski spoke at the local's lunchtime rally on October 21 and offered knowledge of the local's history which aided the bargaining process.