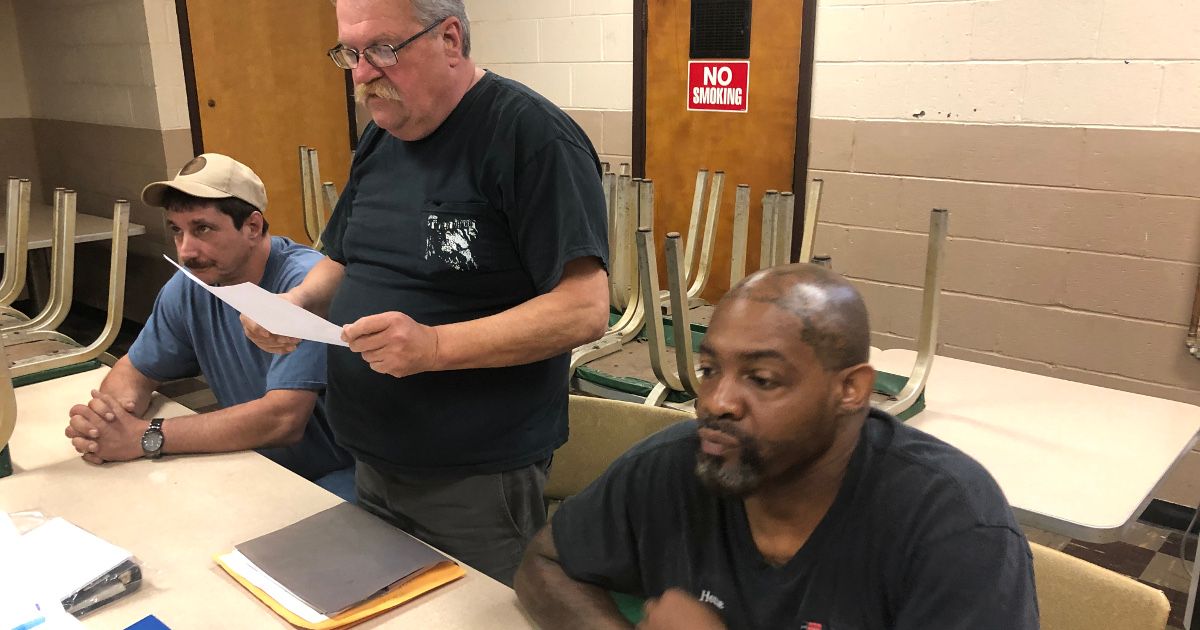 Local 683 President Seidler reviewing the settlement during the ratification meeting, with Financial Secretary Robert Foulk (left) and Chief Steward Malcolm Toran (right).
UE Local 683, whose members process and transport scrap metal, ratified a one-year contract extension on Saturday, July 24. Negotiating with an exiting employer amid the recent sale of their plant, and with a majority of their members on layoff since last March, the local secured a $1,000 lump sum for all bargaining unit employees and took zero concessions.
It's been a stressful year for the local. The company, Liberty Iron & Metal (LIM), informed the Executive Board the first week of January that they were closing the plant by the end of the first quarter. Rumored plant sales never materialized. To the union's surprise, LIM indicated in the spring it would attempt to continue the Erie facility operation under the existing ownership. Then several weeks ago, the local was informed of a purchase agreement between LIM and the Canadian Company American Iron & Metal Recycling Group (AIM).
Written assurances that AIM would recognize the local's contract once they took over, which the union received during the bargaining process, became crucial to the success of the negotiations.
Another key issue was getting an economic win for everyone in the bargaining unit, including those laid off. The agreement calls for a $1,000 ratification bonus that will apply to all union workers represented by the local. This was a major demand that the local insisted on at the bargaining table, even with the existing employer planning on handing over the business in the coming months.
"Getting something for everyone was really important. We wanted our union members to know we are all union — including those still on layoff from last year," said UE Local 683 President Ben Seidler at the union's ratification meeting. "I think we did a good job considering the circumstances — negotiating a contract during a sale like this wasn't easy," Seidler added.
"I'm glad we got this done for the members. Our local stood strong under these tough conditions," commented UE Local Chief Steward Malcolm Toran.
The union bargaining committee consisted of President Ben Seidler, Chief Steward Malcolm Toran, and Financial Secretary Robert Foulk. They were assisted by Field Organizer Ben Wilson. Research Director Karl Zimmerman and International Representative John Thompson provided valuable support during negotiations. UE Eastern Regional President George Waksmunski's knowledge of the local's history aided the bargaining process.